Valuation & Advisory
We offer dynamic, well-researched real estate appraisal related services for a variety of property types.
Market value
Our experienced professionals will consider the market value of the Fee Simple, Leasehold or Leased fee interests, as appropriate for each property.
Compliance
Our professionals are versed in applicable professional standards including, among others, the Uniform Standards of Professional Appraisal Practice (USPAP) and International Valuation Standards (IVS).
Market resources
Our professionals have access to the most up-to-date and comprehensive market data. In markets where we have a presence, we rely on our local and regional research. We supplement our extensive resources through strategic alliance relationships and third party services.
Quality control
To ensure the highest caliber of services, every appraisal report is subject to a quality control review by a professional (senior-level appraiser or practice group leader) that is part of our management team. We enforce stringent quality standards that must be met by our professionals. Our team of quality control staff is comprised of senior-level appraisers, the majority of whom are Designated Members of the Appraisal Institute and are diligent and thorough in their review process.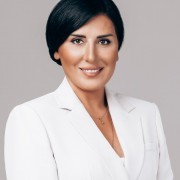 Kristine Margvelashvili
Head of Valuation | Commercial Real Estate
Kristine joined Cushman & Wakefield Georgia in 2023 as a Head of Valuation Department and a Financial Analyst in the Strategic Advisory Department. Within her roles, Kristine is tasked with overseeing critical aspects of real estate valuation, including the management of valuation processes, ensuring quality control measures, and the preparation of comprehensive Valuation Reports tailored for Commercial Real Estate and Business Development projects. Her responsibilities also encompass conducting in-depth financial analysis and employing sophisticated modeling techniques such as Highest and Best Use Studies and Feasibility Studies. She holds an ISO Standard certificate in both Real estate and Business valuation and she possesses 14 years of significant experience in Real Estate Appraisal and 6 years of experience in Business Appraisal.