Retail Services
Whether you are a landlord seeking the ideal tenant mix or a retailer searching for the perfect location, C&W Retail Services can deliver focused real estate service and expertise. We work with clients at every stage of the real estate process, developing solutions that fit the strategic, operational, and financial goals of your business.
Our retail team has the expertise, experience, and resources to provide comprehensive, integrated, and innovative real estate services to retail occupiers and investors regardless of the size, scope, or location of the assignment. From urban high streets to suburban shopping destinations, and everything in between, Cushman & Wakefield retail property specialists leverage industry experience and global perspective to best market properties, align brands with the right opportunities, and provide clients with intelligence for smart decision making.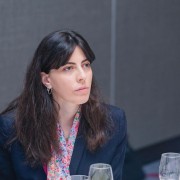 Gvantsa Potskhveria
Head of Retail Services
Gvantsa joined Cushman & Wakefield Georgia in January of 2019 and currently serves as the Head of Retail Services. In this capacity, she is responsible for building stronger retail client relationships and deepening the firm's retail expertise, including expanding retailer tenant representation strategies and agency leasing opportunities. She has got a significant track record of successful transactions, including the coordination of retail leasing for several shopping malls.