Warehouse Land For Sale Near Tbilisi Airport
Property Size:

30275 m2

Property Status:

Non-agricultural land
Price: $ ₾ 1,600,000 USD 4,271,200 GEL
Property Description
Warehouse land for sale near Tbilisi Airport. The land is bordered by railroad tracks. The area is ideal for warehousing and enterprise development. There are two access roads to the land. There is no residential settlement adjacent to it.
Property Agent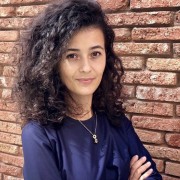 Anna Buianova
Head of Investor Services
Anna joined Cushman & Wakefield in November 2019 and is responsible for market research, highest and best use analysis, feasibility studies, as well as for ongoing quarterly market overviews of the region. She has 3 years of experience in real estate investment with investors from Singapore focusing on foreign direct investment to Georgia. Anna also worked in Singapore at one of the leading business conglomerates, advising its leadership on investment opportunities in Georgia.