FOR SALE
Investment Project
Project on Pirosmani street
Property Size:

1315 m2

Property Status:

Old Built

Property Condition:

Old Renovated
Price: $ ₾ 2,000,000 USD 5,339,000 GEL
Property Description
Two-story building located on Pirosmani Street, featuring an enclosed internal yard. Access to this yard is available directly from Pirosmani Street, and a section of the building fronts the street.
This project holds great potential for the development of a multifunctional space or a boutique hospitality establishment.
Based on the existing sketches the construction of the third floor is projected, after obtaining the respective permits.
Property Agent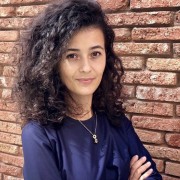 Anna Buianova
Head of Investor Services
Anna joined Cushman & Wakefield in November 2019 and is responsible for market research, highest and best use analysis, feasibility studies, as well as for ongoing quarterly market overviews of the region. She has 3 years of experience in real estate investment with investors from Singapore focusing on foreign direct investment to Georgia. Anna also worked in Singapore at one of the leading business conglomerates, advising its leadership on investment opportunities in Georgia.