MBG Hotel Bakuriani
Property Size:

5733 m2

Property Status:

Under construction

Property Condition:

Renovated
Price: Price upon request
Property Description
5-Story, standing-alone under construction hotel in Bakuriani at the Kokhta Mitarbi sky depot, in front of the Rooms Hotel Kokhta. The hotel construction is made using top-grade energy-efficient construction materials.
The hotel stands out with its interior and exterior. The project's design and layout are compatible with the high standards of an international upscale branded Hotel. The building has alternative supply systems in place for both electricity and water.
Hotel Includes:
Lounge, Open Swimming Pool with The Hot Water; Indoor & Outdoor Jacuzzis, 58 Standard & Studio Rooms, Restaurant & Bars, 2 Meeting Rooms; Sauna & Spa.
• 54 Standard Rooms 23m2 to 35m2
• 4 Studio Rooms With 40m2 to 56m2 Located on The Fourth Floor of The Building
• 263m2 Lounge Bar & 117m2 Rooftop Bar for The Open Swimming Pool Visitors
• 319m2 Restaurant Area on The Ground Floor & 140m2 Terrace for The Same Infrastructure
• Indoor and Outdoor Jacuzzis; Saunas and Spa Areas
• 110m2 Outdoor Rooftop Swimming Pool with The Water Heating System
• Conference and Meeting Rooms with Total Of 110m2
• Building's Total Area - 5,733 m2; Land Area – 2,474 m2; Underground Parking For 23 Cars; 3 Elevators
The project has reached the fit-out stage, having completed the construction works
The projected opening date is Q3, 2024
Property Agent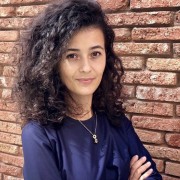 Anna Buianova
Head of Investor Services
Anna joined Cushman & Wakefield in November 2019 and is responsible for market research, highest and best use analysis, feasibility studies, as well as for ongoing quarterly market overviews of the region. She has 3 years of experience in real estate investment with investors from Singapore focusing on foreign direct investment to Georgia. Anna also worked in Singapore at one of the leading business conglomerates, advising its leadership on investment opportunities in Georgia.