Research
Our internal research team prepares a number of commercial real estate reports on a monthly and quarterly basis that cover various aspects of the property market. "Market Snapshots" provide an instant overview of all retail, hospitality and office markets while "Marketbeats" dive deeper into the breadth of topics within the real estate market.
The research department works closely with Cushman & Wakefield's International team of research experts to assist in the completion of various global reports, such as the "Global Cities Retail Guide", "EMEA Leasing Guidelines", etc.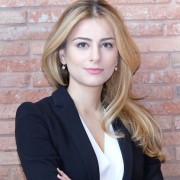 Tekla Iashagashvili
Head of Development Advisory
Tekla joined Cushman & Wakefield in 2018 and is responsible for generation and compilation of quarterly market statistics, assistance in preparation of property market research and feasibility studies, and forecasting and analysis of the prevailing economic and market trends. Tekla has a Master's degree from the University of Cambridge and a considerable academic research experience.