Old Park on Amagleba St.
Property Size:

1967 m2

Property Status:

Non-agricultural land
Price: $ ₾ 2,450,000 USD 7,779,000 GEL
Property Description
Land Plots located in old part of Tbilisi, close to Tavisufleba square, on the road to the funicular. Residential and commercial properties are in high demand and very high in price here. There are many tourists because of the "tourist path" crossing the territory.
Offered land is in prime location, with easy access from the main road. Suitable for a boutique hotel and high end residential apartments.
Property Agent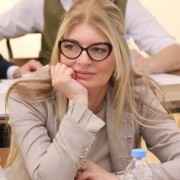 Lika Goguadze
Senior Broker
Lika joined Cushman & Wakefield in 2019 and is responsible for managing and coordinating the firm's agency services. Lika is a licensed realtor with over 15 years of experience in brokerage in Georgia as well as in USA. She was licensed with Weichert Real Estate and worked as realtor in New York and New Jersey.