Cinema "Sakartvelo"
Property Size:

2695 m2

Property Status:

Old Built

Property Condition:

Renovated
Price: $ ₾ 2,800,000 USD 9,242,800 GEL
Property Description
For sale a unique commercial building built during Soviet Period. For years it was hosting cultural events, exhibitions, and later was functioning as a movie theater.
Property Agent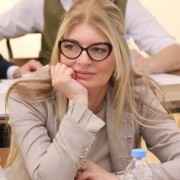 Lika Goguadze
Senior Broker
Lika joined Cushman & Wakefield in 2019 and is responsible for managing and coordinating the firm's agency services. Lika is a licensed realtor with over 15 years of experience in brokerage in Georgia as well as in USA. She was licensed with Weichert Real Estate and worked as realtor in New York and New Jersey.