Century - Old Building on Amaghleba Street
Property Size:

705 m2

Property Status:

Old Built

Property Condition:

Renovated
Price: $ ₾ 900,000 USD 2,857,590 GEL
Property Description
The house was built in 1908 and is now a cultural heritage. It's unique façade makes it to stand out among other houses on Amagleba street.
It is located in old part of Tbilisi, close to Tavisufleba Square, the main square of the city, on the road to the Funicular. Offered land is in prime location, with easy access from the main road. Suitable for boutique hotel and high end residential apartments
The house features 13 rooms:
13 Rooms
6 bedroom (4 of them with private bathrooms)
8 bathrooms
2 living rooms
2 Kitchens
Cellar
Storage Room
Parking Space (that can accommodate up to 3 cars)
Property Agent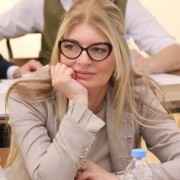 Lika Goguadze
Senior Broker
Lika joined Cushman & Wakefield in 2019 and is responsible for managing and coordinating the firm's agency services. Lika is a licensed realtor with over 15 years of experience in brokerage in Georgia as well as in USA. She was licensed with Weichert Real Estate and worked as realtor in New York and New Jersey.